Bear's Towers
Bass - Electric, acoustic guitar
France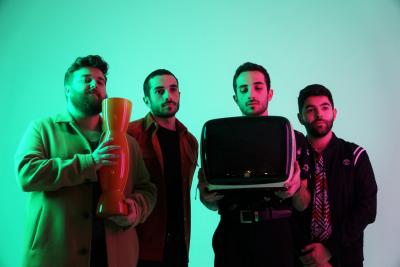 Biography
Bear's Towers is above all a story of friendship, a common desire to create and share emotions through the folk-guitar and the intimate voice of Aurélien, the electronic orchestrations skillfully dosed by Olivier and the lively force of a rock band led by twin brothers Tommy and Nathan.  
The four of them know how to caress us or make us dizzy, warm us up or drag us into a crazy and furious rhythm. 
In the fall of 2019, after performing at the MaMA in Paris, the band finalized their new EP entitled "PRISM", just in time to embark on a tour of England.  
This new 4-track opus marks an evolution for the band, who surrounded themselves with Jamy Ben (Sony ATV) on the production and Robin Florent (Larrabee Studio - CA) on the mixing, in order to offer a new color to the project. 
This mix of genres and influences created "PRISM", a wide spectrum of colors and inspirations.  After the first single "Silent Birds", the new EP will be released on April 3rd, accompanied by the second single "Vertigo". 
Bass guitar
Acoustic guitar
Electric guitar