BENOIT MEDRYKOWSKI
Electric and Acoustic Guitar
France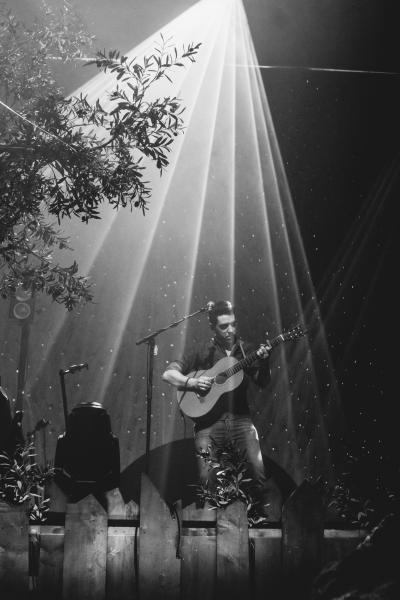 Biography
After his studies at the Conservatory of Metz in classical guitar, Benoit MEDRYKOWSKI enters the Centre Des Musiques Didier Lockwood (2002/2004). He moved to Paris and began a sideman career.
He plays with various artists which allows him to multiply experiences and styles of music.
In 2007/2008, he accompanied the Cuban singer Raul Paz and toured around France and Europe (Vieilles Charrues, Nice Jazz Festival, North Sea Jazz festival, Elysée Montmartre, Salle Gaveau, Germany ....).
From 2009 to 2010, he toured with the singer Cape Verdean Mayra Andrade, on stages around the world (New York, China, Brazil, London, Spain, Portugal, Finland, Lithuania, Poland, Germany, Emirate Arab, Cape Verde , Morocco, Netherlands ...).
Along with this tour he accompanies the English singer Hugh Coltman (Pop / Rock) and harmonica Greg Zlap (Blues) for a few dates.
From 2011 to 2013 he toured with the singer Belgian Jali (song) around France and Belgium.
He joined Berber Sidi de Bémol Tzigane in 2012 as part of the festival "Gypsies, Origin" organized by the AARC (Algerian Agency for Cultural Influence).
From 2013 to 2014 he played with singer Lou Marco (Electro / Rock) and wander through all France.
In 2015 he toured the world with the Moroccan singer Hindi Zahra.
And since 2016 he accompanies the Frero Delavega (song) for a tour of Zeniths and Summer Festivals. Tour ends at the hotel Acorr arena in 2017.
Acoustic guitar
Electric guitar