Elysée Quartet
Violin - Viola - Cello
France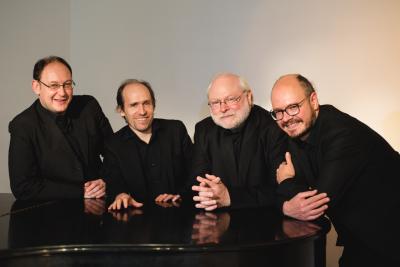 Biography
The Elysée Quartet was founded in 1995 by former members of two quartets that won the Grand Prix at the Evian International Competition: the Anton and Ysaye Quartets. The unique aspect of the Elysée Quartet lies in the confrontation and assimilation of two different schools: the French school and the Russian school.
These two schools enrich each other and allow for a fusion of different ideas, the development of new dimensions in the interpretation of music, and a power of expression of great originality.
The Elysée Quartet has performed in many European countries (England, Germany, Austria, Belgium, Bulgaria, Slovenia, Italy, Spain, Portugal) as well as in Israel, Japan, China, Canada, Nicaragua, Russia, and has been invited to play in major concert halls such as the Théâtre du Châtelet and the Salle Cortot in Paris, Kioi Hall in Tokyo, Tchaikovsky Hall in Moscow...
In France, the Elysée Quartet has been invited to prestigious festivals such as the Festival de l'Orangerie de Sceaux, the Festival du Périgord Noir, the Festival de Quatuors à Cordes de Fayence, the Festival de Quatuors à Cordes du Lubéron, the Festival d'Ile de France, the Festival de l'Abbaye de l'Epau, the Saison Musicale de Proquartet à Fontainebleau, the Festival de Cunault, etc
The Elysée Quartet has collaborated with musicians such as Pascal Amoyel, Franck Braley, Marie-Joseph Jude, Jean-Marc Luisada, Emmanuelle Bertrand, Marc Coppey, Henri Demarquette, Alain Meunier, François Salque, Gérard Caussé, Michel Lethiec, Paul Meyer, Philippe Bernold and many others. He has also recorded several CDs for the labels Naxos, Timpani, Triton, Continuo Classics, Zig Zag Territoires, which have been awarded by the press (Diapason, Classica) and acclaimed by the public...
"One of the most interesting ensembles today..." - Le Monde de la Musique
"A superbly structured and controlled quartet. A version, all pure grace and eloquence..." - International Record Review (England)
"These musicians, marvelously complicit, are on a par with the greatest quartets. The warm atmosphere is a bonus." - The Strad (England)
The Quartet is now composed of : Vadim Tchijik - Violin, Pablo Schatzman - Violin, Andrei Malakhov - Viola and Igor Kiritchenko - Cello. 
Vadim Tchijik - Violin 
"Already a Master" according to Diapason magazine, winner of several international prizes, including the prestigious N. PAGANINI in Genoa, P. I. TCHAIKOVSKI in Moscow, R. LIPIZER in Gorizia, he is also named JUVENTUS Laureate by the Council of Europe. He has an international career as a soloist, performing with several orchestras (Moscow, Netherlands, Mexico, Ankara, Freiburg, Genoa...) and giving numerous recitals in more than thirty countries in Europe as well as in Asia, Latin America and the United States...
He plays in the most prestigious concert halls (Champs-Elysées, Gaveau in Paris, Konzerthaus in Berlin, Gewandhaus in Leipzig, Residenz in Munich, Concertgebow in Amsterdam, Suntory Hall in Tokyo, Tchaikovsky in Moscow, Dvorak Hall in Prague...)
He is often invited by great festivals: Radio France in Montpellier, Pablo Casals, Auvers sur Oise, Colmar, Nancyphonies, Saint-Riquier, Fêtes Romantiques de Nohant, Ravello, Portogruaro, Alba, etc. He has recorded several discs that have been awarded by the press. An excellent chamber musician, he plays with musicians such as Marielle Nordmann, Emmanuel Pahud, Jean-Claude Pennetier, Anne Quéffelec, Georges Pludermacher, Philippe Bernold, Michel Lethiec, Pieter Wispelwey, Cédric Tiberghien, David Geringas, Marc Coppey, François Salque, Thierry Caëns...
Artistic director of several festivals: Festival International de Musique d'Hyères, "Les Musicales de Saint-Martin" and "Les Heures Musicales de Binic", founder and director of the ensemble "Les Virtuoses" he gives master classes in Europe, Latin America and Asia.
Pablo Schatzman - Violin 
A student of Tibor Varga in Switzerland and Pinchas Zukerman in New York, Pablo is a laureate of the Bordeaux Quartet Competition and the Académie Ravel. A renowned violinist and chamber musician through various ensembles such as Trio Leos, Musica Nigella and Les Dissonances, he is the artistic director of the "Écouter-Voir" musical season in Tourcoing and of the Éole en Musiques Festival in Paimboeuf. His recordings devoted to Beethoven, Ravel, Chauson, Bartok have all been warmly welcomed by the critics (4 f, Télérama, Classica, diapason d'or, selection of Le Monde...). He devotes an important part of his activity to pedagogy through his position as professor at the Conservatoire de Saint-Cloud and regular interventions at the Pôle Supérieur de Lille as well as on the occasion of various master classes.
Andrei Malakhov - Viola
Studied viola at the Lyssenko Specialized School of Music and at the Tchaikovsky National Academy of Music of Ukraine in Kiev. After obtaining a Master's degree at the CNSM in Paris in the class of Gérard Caussé, he followed a course of study at the Ecole Normale de Musique de Paris with Pierre-Henri Xuereb. Winner of international competitions in Ukraine, Slovakia and Finland, he performs as a soloist and chamber musician in many countries of the world and with renowned partners: Henri Demarquette, Zakhar Bron, Anton Martynov, Laszlo Hadady, Julie Fuchs, Roman Mints, Annick Roussin, Valérie Aimard, Christophe Desjardins, Igor Volochine, Boris Baraz, Naaman Sluchin... Passionate about contemporary music, Andrei Malakhov is a member of the ensembles "Le Balcon" and "Maja", where he collaborates with many contemporary composers: Pierre Boulez, Michael Lévinas, Peter Eötvös, Valentin Silvestrov, Stefano Gervasoni and others.
Igor Kiritchenko - Cello 
Born in Ukraine, Igor Kiritchenko studied in Odessa, Moscow and Paris with V. Berlinsky (Borodin Quartet) and H. Beyerle (Alban Berg Quartet). After winning the International Cello Competition in Belgrade, he became a member of the Anton Quartet (1989-1995) and won the Grand Prix at the Evian International Competition, the International Press Jury Prize, the SACEM Special Prize, the First Prize at the International Shostakovich Competition in St. Petersburg and the Special Prize for the best interpretation of Russian music. He has performed in the most prestigious concert halls: Théâtre des Champs Elysées, Théâtre de la Ville, Salle Gaveau, Herkulessaal (Munich), Verdi Hall (Milan), Barbican Center (London), Santa Cecilia Academy (Rome), Metropolitan Art Hall (Tokyo).... Mr. Rostropovitch invited him to participate in the Prokofiev Festival and S. Richter in the December Evenings Festival.
 In chamber music he has performed with internationally renowned musicians such as Y. Bashmet, G. Caussé, P. Bianconi, E. Naoumov, the Borodin, Manfred, Ravel, Debussy Quartets...
A founding member of the Anton Quartet, Elysée Quartet, Trio Alta, Trio Equinox, Juon Project, Trio Bohème, Trio In Breve and Trio Arioso, Igor Kiritchenko has made more than twenty recordings and has participated in numerous recordings for radio and television.
CD/DVD