KADER FAHEM
flamenca guitar
France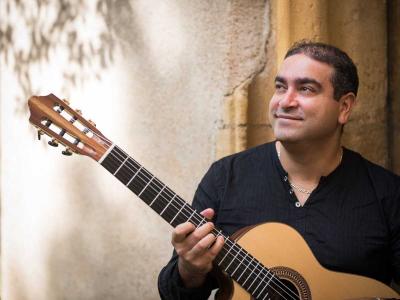 Biography
In 1977, Kader Fahem, the child from Algiers, left his native land to return to his host country, France. Between Eastern and Western culture, the child grows, evolves and is enriched by the best of these two worlds. He understands very early on that only music will help him and guide him in his life... it is already in him.
At the age of 7, he discovers his first guitar, the magic works, he understands immediately that he will never leave it again and that it will be his companion for life. Quickly, the child with the undeniable musical facility, tames his instrument, tackles all the music that makes his daily life and reproduces it without scores. From oriental music to rap music, everything is possible!!! He then naturally develops his own language...
The call of the stage was not long in coming, at the age of 11, he performed for the first time in public, with the "Etoile du Maghreb". His career is launched...
Experiences in various formations accumulate over the years: "Flamenco Kids, Este Mundo, Divan, Abracadabraï, Meltin'potes, Yvan Le Bolloc'h et ma guitare s'appelle revient, Khaled, Amina Annabi, Souad Massi...".
His encounters with musicians from all walks of life cultivate his curiosity and thirst for learning. Arabic, gypsy, classical, flamenco, jazz, blues, rock, etc... All these musical currents interest him, seduce him and flow in his veins.
Life and the stage forge a very strong artistic personality which leads him into the world of composition and improvisation.
He is recognised today as one of the best guitarists of his generation, carrying a message of openness and tolerance. Three albums later and a Live DVD, concerts throughout the world, Kader Fahem continues his journey, always in search of freedom, musical identity, with for richness, his roots, Kabyles, Berbers and his life as a Frenchman open to the World...
CD/DVD