Lorenzo Bernardi
Classical guitar
Italy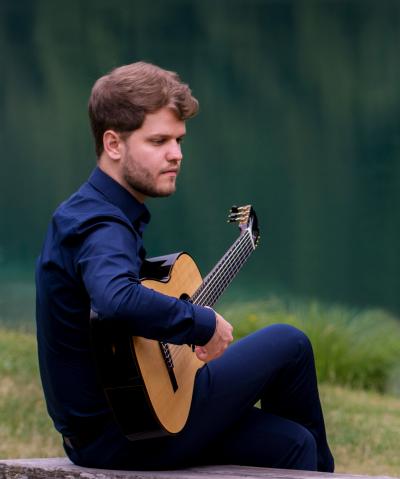 Biography
Born in Trento in 1994, he graduated from Conservatorio Superior F.A Bonporti in Trento, in 2015. He then continued his studies under the guidance of Emanuele Buono at the Conservatorio L. Canepa in Sassari, obtaining a Master's degree with honors.
Thanks to a scholarship offered by the European community, he further specialized at Conservatorio de Musica Manuel Castillo in Seville, Spain, under the guidance of internationally renowned Professor and guitarist Francisco Bernier.
As a soloist, but also as a member of chamber ensembles and with orchestra, he has performed in numerous national and international events.
Between 2016 and 2018 he performed in prestigious events in Italy, Spain, Argentina, USA, Bahrain, Japan, Korea, Indonesia, Vietnam and India where he was also invited as a jury member of international competitions such as Calcutta International Guitar Festival in India , Alma Hanoi Guitar Festival and Saigon Guitar Fest in Vietnam.
In 2016, concerts were held in Mendoza, Argentina, within the Semana de las Artes festival, at the Universidad de Cuyo and at the local Consulate General. In 2017 he made his debut in Japan performing in Tokyo, Osaka and Fukuoka thanks to the support of the Italian Institute of Culture in Osaka. And shortly thereafter in Spain, within the famous festival and international competition Festival de la Guitarra de Sevilla, playing at the Real Alcazar of the famous Andalusian city.
In 2018 he performed in duo with the virtuoso Ukrainian Marko Topchii at the Trento Philharmonic Hall and with the Vietnamese guitarist The Le, in May in Manama, Bahrain.
Together with vietnamite guitar star The Le they have been touring Asia and Europe presenting their new project: A trip to Italy, which has been premiered in Bahrain, followed by concerts in Vietnam (Hanoi and Ho Chi Minh City), Korea, Indonesia, India, Italy and finally Spain. dates back to June 2018, where he also had the opportunity to hold a Masterclass for local students followed by a second tour, about two months, which at starting in October, he took him to perform again in Vietnam and later in Korea and Indonesia.
Lorenzo also plays in duo with famous Italian mandolinist Carlo Aonzo: they debuted last June in Italy and they are about to embark on a tour of concerts in the United States and Central America.