Vicente José Santiago
Flamenco Guitar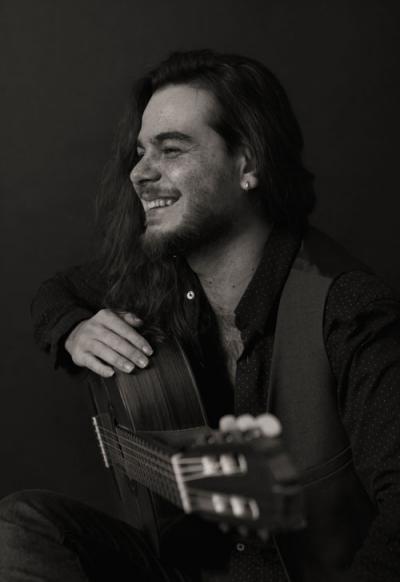 Biography
Vicente was born surrounded by flamenco, in a Spanish gypsy family. He learned the rhythms and codes of flamenco in meetings and parties often held in his environment. From a very young age, guitar awakened in his a great curiosity so he started playing it at the age of 11 and haven't stopped since.
When he was growing up and his thirst for learning was also increasing, Vicente decided to study in depth the guitar as well as flamenco and other types of music. He finished my studies at the Conservatory of Cartagena, Spain, and went to complete his studies in Cordoba at the Rafael Orozco Superior Conservatory and later at the World Music Department of the Rotterdam Conservatory (Holland). Throughout his journey around the world he have been lucky enough to study with some of the best flamenco masters such as Manolo Franco, Niño de Pura, Paco Serrano, Gabriel Exposito, Paco Peña, Leo Brower, Paul Galbraith or Manolo Sanlúcar among others.
As a guitarist, over the years Vicente have been playing as a soloist and accompanying singers and dancers at some of the most important flamenco festivals such as the Flamenco Biennale in the Netherlands and the Lo Ferro Flamenco Singing Festival in Spain. He have also composed music for choreographers of the size of Javier Latorre.
Vicente have been performing in several countries such as Spain, Holland, France, Denmark, Germany, Chile, Belgium, Luxembourg or Switzerland.
Currently he based in the Netherlands, collaborating with different musical projects, performing and teaching flamenco as another way of transmitting this art, both online and in person.