YAKO QUARTET 
Violin - Viola - Cello
France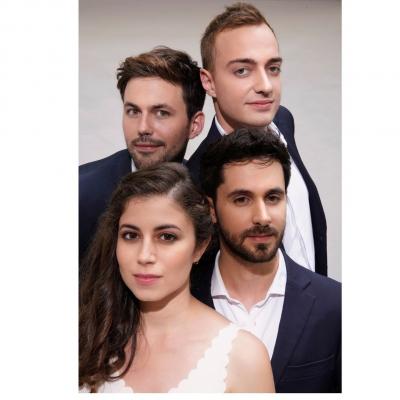 Biography
Founded in 2015 in Lyon, the Quartet is composed of: 
Ludovic Thilly: violin
Pierre Maestra: violin
Sarah Teboul, alto
Alban Lebrun: cello
Quatuor Yako works with Yovan Markovitch and Luc-Marie Aguera (Ysaye Quartet), and is also studying since 2016 in the class of Christoph Poppen and Hariolf Schlichtig (Cherubini Quartet) in Munich.
The quartet was a prize-winner of FNAPEC competition in Paris on March 2016, as well as Orlando International Competition 2017 (Netherlands).
As an ensemble in residence in ProQuartet (Paris), the Yako Quartet works with members of Alban Berg, Artemis, Vogler and Belcea quartets.
The Yako Quartet appeared in festivals and academies such as Aix-en-Provence, Montepulciano, Villecroze, also in the project "50 for the Future" with Kronos Quartet (Holland Festival, Amsterdam 2016) and on stage with Bill T. Jones dance company ("Play and Play", filmed by Arte Concert).
In 2017, Quatuor Yako performed on France Musique Radio, in Paris Philharmonie, Salle Molière (Lyon) and also in many festivals within France and across Europe.