Luis Gallo
Flamenco guitar
Spain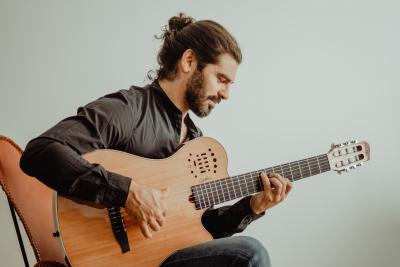 Biography
Luis Gallo, Spanish guitarist and composer from Madrid, Spain. Trained as formal flamenco guitar player in the Conservatorio Superior de Córdoba (Spain), he also studied jazz and music production after winning with a National Music Schoolarship. Soon he gets interested in the Jazz and fusion scene and becomes one of the most demanded flamenco jazz guitar players in Spain and abroad.
He has been working around the world with artists such as Hans Zimmer, Ara Malikian, Raimundo Amador, Jorge Pardo, Rafael Amargo, Vasko Vassilev or the Covent Garden soloist Orchestra in many different music styles, from Flamenco to Classical or Indian music, playing in some of the most renown international music stages and festivals.
Luis Gallo has been nominated for 2016 Danish Music Awards (World Music).
Under his name he has different guitar projects touring worldwide and his personal music album will be release in 2021. As a documentary music composer he has recorded and worked for National Geographic and other European production companies.
Furthermore, he is Godin Guitars Ambassador around the world.