Tomatito
Flamenco guitar
Spain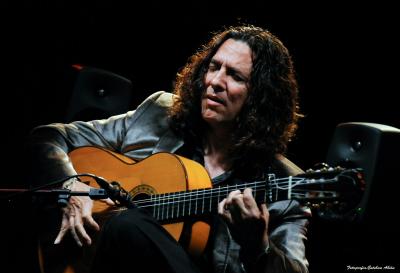 Biography
José Fernández Torres was born in Almeria (Andalusia) on August 20, 1958. He is the son and nephew of flamenco guitarists both nicknamed "El Tomate", he logically becomes "Tomatito" (the little tomato, but here the little one of "Tomato") as soon as he touches his first guitar at the age of ten. A pupil and accompanist of Paco de Lucia in the 1970s, Tomatito then took over from him at Camarón de la Isla in 1979. The encounter between the two men sparked off with the album La Leyenda del Tiempo, which launched flamenco rock. 
This exceptional human and artistic complicity continued until the death of Camarón de la Isla in 1992. The 1987 Paris recording remains a moving testimony to the two men's understanding. Tomatito took off with the sublime Rosas del Amor (1987) and especially Barrio Negro in 1991, a true manifesto of the nuevo flamenco. A virtuoso known far beyond flamenco, Tomatito brings his style to artists such as Frank Sinatra, Elton John, John McLaughlin, Mecano or Larry Corryel. However, he never deviates too far from the music that literally flows in his veins and collaborates in 1993 with the singer Duquende for Duquende y la Guitarra de Tomatito.
After Guitarra Gitana in 1997, Tomatito began a new collaboration, this time with Latin jazz pianist Michel Camilo for Spain in 2000. Paseo De Los Castaños (2001), and Aguadulce (2004) remain wisely in their usual register. Tomatito returns to Latin jazz with Spain Again, again with the Dominican Michel Camilo. Anthology (1998-2008) in 2008 unfortunately leaves aside the titles of his biggest album Barrio Negro, and usurps its name somewhat. In 2010, Tomatito records with the Spanish National Orchestra and Catalan conductor Josep Pons, Sonanta Suite or the meeting of flamenco and Spanish classical inspiration.
Soy Flamenco, the first solo album in almost ten years, takes stock of a forty-five-year career in 2013. In addition to Paco de Lucia, Tomatito finds there thanks to the miracles of technology the voice of Camarón de la Isla.
CD/DVD